Some things take a while to build while others are an instant hit. Our very first 2020Vision London event was a sold out road block show at Village Underground in Shoreditch on August 14th 2010. One thing I have learnt in life is that you have to take your opportunites and run with them as fast as you can, while you can. We did just that. A series of sold out Village Underground shows featuring 2020Soundsystem, Crazy P, Tensnake, MCDE, Simon Baker & Julien Chaptal followed before things took another turn on May 29th 2011.
We decided it was time to try something new so we looked into throwing a day time show that would continue on into the night. Sometimes fact is stranger than fiction - the recently disused Shoreditch Underground station became available for events for a short time before being developed. The name alone worked perfectly for us of course. On a beautiful hot day in May we invited Steve Bug alongside Jozif and myself to come and play to a very special crowd of people at a one off daytime event at The Shoreditch Underground. As the event had to finish at 9pm we then marched everyone down Brick Lane to Village Underground for Maya Jane Coles, Mark E and Simon Baker. You can still watch highlights of the epic 20 hour events here. From what I've been told it was a day for London to remember for a long time. It certainly was for me. It also firmly put 2020 on the map in the heart of London's East End.
For May bank holiday 2012 we again decided it was time to throw a big London show. Shoreditch Underground was now gone forever as a music venue and we didn't want to repeat ourselves with another show at our ever faithful homebase of Village Underground. Once again my partner, Danny, found an incredible venue but this time over in the previously unexplored territiory of West London. Loft Studios is a fully functioning professional film and photographic studios complex which also, on occassion, hosts music events. It comes complete with it's own outdoor courtyard space and multiple rooms, all of a breathtaking quality. As soon as I saw it I was convinced that this was the place for our May event.
I had become friendly with Loco Dice and his merry band of Desolat artists from meeting them in Ibiza and kept in touch on email. I knew it was very hard to book Dice for London but I had nothing to lose so I just got in touch and asked him. To my surprise he just said ,"Yes", straight away and I immediately got to work with his team to make it happen. We decided to theme it as a unique one off show and invite an unprecendented amount of acts from both labels to play. Desolat loved the Loft Studios idea and we set the date for May 6th 2012.
This show was far bigger than we had ever staged before. We had only ever done one or two room shows before but on this event we doubled the number of rooms to four. We spent months planning production with Martin Audio & Function One sound and installed loads of fancy lighting and projections. Each of the four studios we used were individually kitted out to suit the space.
The night before the event I checked the weather report to find it was forecasting the only sunny day the UK had seen for weeks and went to bed happy.
I decided to pick up Dice myself at Heathrow in the morning to save any mess ups with hired drivers. Bring on match day....
I woke up in the morning to find grey clouds and drizzle, so much for the forecast. I decided to ignore the weather and set off for the airport. Dice's flight was on time and we were looking good again - until he walked through the arrivals gate limping. "What's happened to your Leg?", I asked. The previous night in France his pick up driver had set off before he was in the car and driven onto his leg, trapping his ankle under the wheel. However well you plan for an event what actually happens on the day will throw your plans out! So instead of taking Dice to the hotel to get his well earned rest we had to find a hospital. We ended up at St Thomas hospital in Westminster by mid morning and went through X rays and consultations. Dice left with on a pair of crutches and an order to rest his leg. He never considered cancelling the show and promised to come up to the venue in time to play the first of his two sets...
I had to go straight to the venue as I was now late for soundcheck and arrived with people already at the gates. We set up as quickly as we could and the courtyard filled rapidly so that by 3.00pm when PBR Streetgang came on it was rammed. The Leeds based duo are getting dab hands at terrace sets as they also play alongside myself at We Love Space in Ibiza throughout the summer as well as staging their own bank holiday events called Asylum in Leeds.The weather, although cold, remained dry and our luck seemed to be changing.
Debukas did a great job with his live session, fully equipped with synths, drum machines and vocals. This multi talented singer songwriter from Scotland is making friends fast. Check out his new EP, especially my favourite cut which is a collab with Pional called Golden Mind.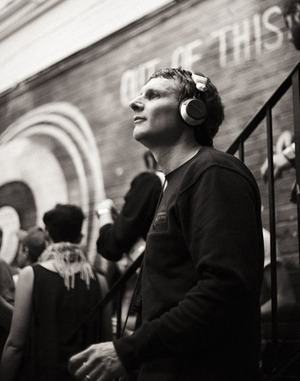 Then suddenly it was my turn. DJing is a nerve racking experience at the best of times, but in broad daylight with a packed crowd surrounding you on all sides it takes on new levels of nerve. I find it really hard to switch from being the one running around getting everything set up to the one who has to play the music. I have learnt how to handle it but always need a few minutes alone to compose myself. You have to relax to play well. It also helps when you are in totally unique surroundings and the crowd are behind you. I believe you have to play up to the occassion and this was a special event which called for a special set. I also wanted to make sure I left it right for Dice. Well you can make your own judgement as I recorded it for you here -
Dice received a hero's welcome as he climbed down the stairs leading to the courtyard on his crutches. He managed to play with his bad foot resting up on a record crate. Dice is a big game player. You know that most of the crowd are there to see him and you know he'll deliver every time. I'm always impressed by DJs like that.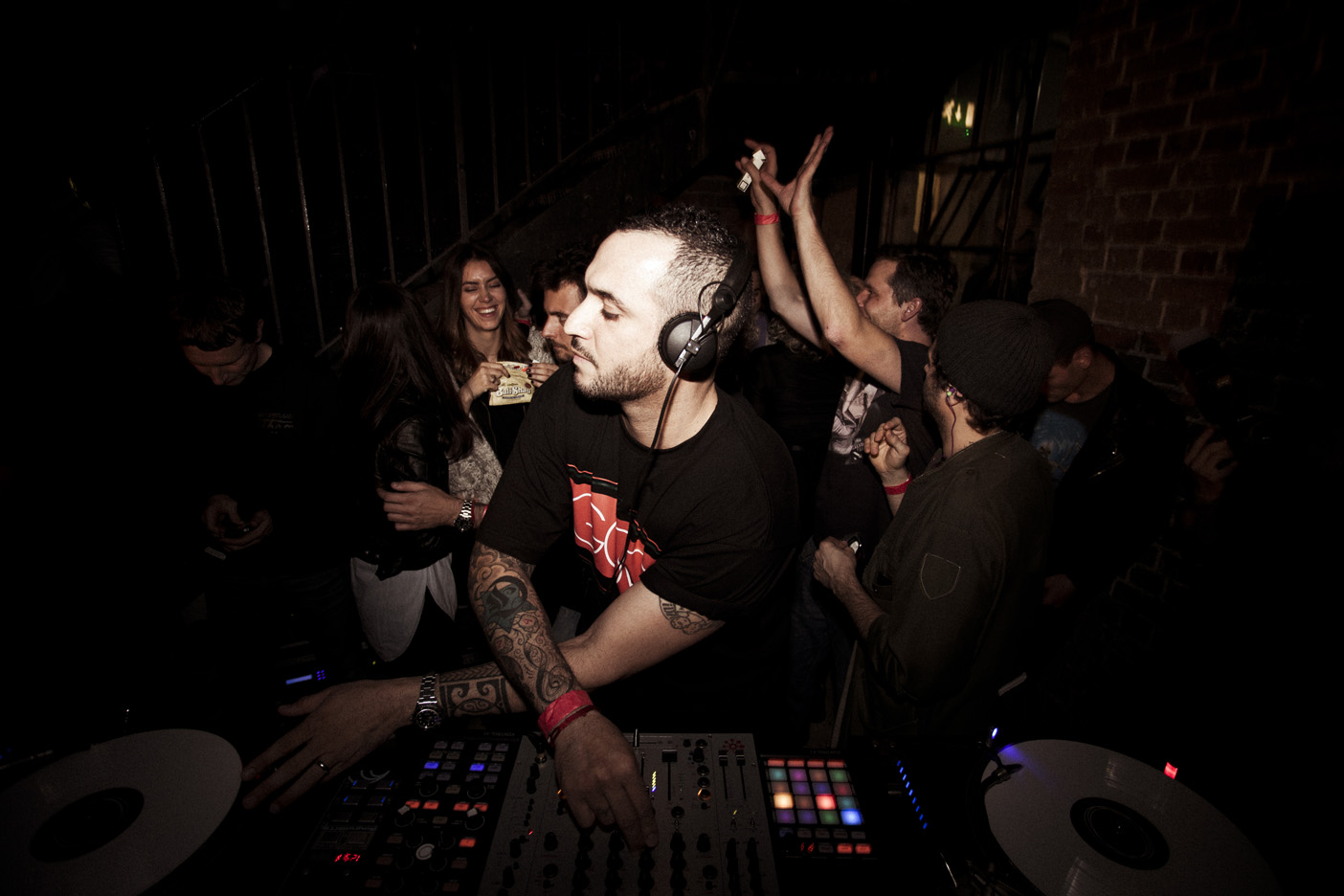 For me it was back to the beck and call of duty and being hit with a million more jobs to do. First and foremost I had to go and set up the main room to open as soon as the courtyard closed. I managed to check out Studio 1 on my way there, just as Simon Baker had it going off. Studio 1 is a beautiful room used at Loft for photo shoots with a white infinty wall covering it from floor to ceiling. Our VJ Stephen had it looking amazing by projecting 'Out Of This World' space images onto the blank canvas. Guti Live was one of the highlights of the entire night later on in this room and The Martinez Brothers also kicked up a cosmic storm in there.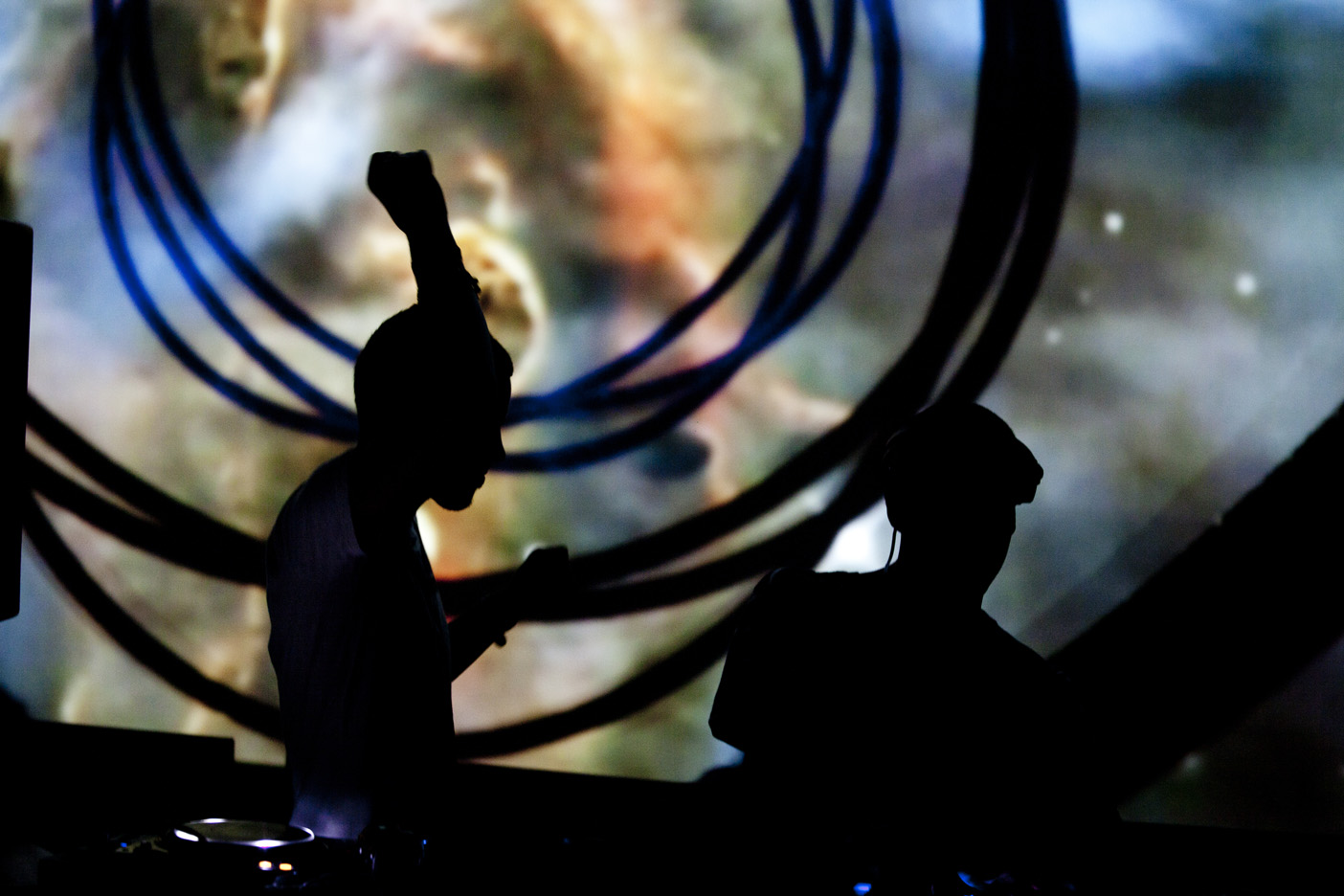 The last time I played Day & Night sets at our shows I found that the day set really took it out of me. It was so intense I didn't have much left to give at night. This time I wanted to make sure that didn't happen again. The fact that our sound guys Joe & Rob had rigged up a beast of a Function One system in yet another of Loft's superb studios also helped considerably! This time we made the room feel like a classic New York Loft space. I could see Danny Tenaglia having fun in there. Come on Danny - "One more show, one more show!" We timed it so the room opened as the courtyard closed so it filled immediately. I felt like going deeper and darker in there - so I did. It's a very different set from the day session but turn the lights off and hopefully it should start to make sense. Anyway here you go again -
I left it for tINI to take over who left the place real hot and after an excellent Martin Buttrich live show, Dice played again. Once again he had it going nuts. At 5am his leg was killing him and he asked if I could play a while. I went to get ready but when I came back he wasn't going to quit and played on till the end. I suppose he must have been having fun :)
All Images So Hasegawa
RL Day Set Track Listing
Miguel Migs feat. Meshell Ndegeocello - Tonight (Crazy P remix)
Kerri Chandler - Heaven
Baunz - The Same Thing (Huxley remix)
Franck Roger - Can We
Joyce Muniz - Drop in Pressure
Hunter - Under
Scan Mode-This Is House- (Tapesh remix)
Sccucci Manucci - Waze & Odyssey
Coat Of Arms - Lovin Together
Intruder - U Got Me
Roy Davis Jr - About Love (Pezzner remix)
Hot Since 82 - Hurt You
Sebbo - Superfly
Andrade - Dancing (Quells remix)
Rob Slac & Alex - Sounds Right (Pezzner remix)
Tiger Stripes - Beatbox
Jonny Cade - Truffles at Dawn
Aril Brikha - Palma
Nicole Moudaber - Hair
DJ Ali - Electra (Subb-an & Shelton remix)
RL Night Set track listing
Show Me Dub
OCH - Sophisticated Animated
Oliver Klein - Hey Baby (Chris Lattner remix)
Kerri Chandler - Rain Song (Tiger Stripes remix)
Andrade - Dancing (Quells remix)
Joyce Muniz - Wanna Be There
Nicolas - From The Roots
Flashmob - Need In me
Huxley - Box Clever
The Midnight Perverts - Yes Thats My Baby (Franck Roger remix)
Dense & Pike - Vomee
Jay Bliss - Pluto
Franck Roger - I Take You Up
Jay Shepheard - Year To the Day
Joachim Speith - Sensual
Jay Bliss - Time Traveller
Daniel Bortz - Again